Description
You're favorite wand just got a magical upgrade!

We couldn't be more excited to introduce the new Magic Wand Plus!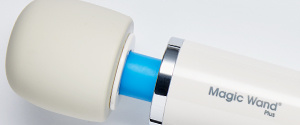 Soft, supple silicone elicits sensations like a lovers touch.
The flexible neck adjusts to your bodies curves for the most tantalizing playtime.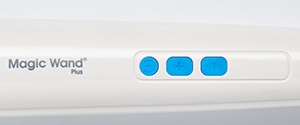 The easy to use buttons easily navigate you through the various vibration settings so you can reach nirvana!
It's stronger and better than ever! The Magic Wand has been a fan favorite since 1968, and it's only getting better! While the original will always be popular, we are sure the Magic Wand Plus will be in the top drawer of your nightstand. With the new supple silicone head for a velvety touch and bendable neck, you can find a new orgasmic bliss! Upgrading to 4 new pleasure settings, and an easy to control 3-button system, the possibilities are endless.
Pair this wand with your liberator for tantalizing solo play, or add a new level of intensity to partner play. Apply a warming lubricant to add additional sensations during your naughty escapades. When playtime is over, use toy cleaner and warm water rinse to clean. Be sure your wand is dry before storing.

Please Note: Magic Wand products are not eligible for any dollar or percentage off discounts.